Before knowing about the Sou-Sou MLM software, let us see where it started first – The concept of Sou-Sou originated in West Africa centuries. In the past, housewives in rural communities who had no income and those who could not access banks started to use Sou-Sous.
What is Sou Sou Plan?
A savings arrangement where a group of people each pool an equal amount of money for a period of time (month, two weeks, etc.) and after that time is up, one person in a group gets all that money.
They're going to keep doing this until everyone gets their turn and receives that full lump sum at least once.
A sou so is an informal revolving savings club where a set group of people arrange to contribute money equally to the fund on a fixed schedule. The term sou sou derives from the Yoruba word "esesu" and although foreign to Americans, is practiced in many African and Caribbean countries. Every country seems to have a different word, but the definition is the same.For example, In American countries, call it Sou-Sou, Su-Su, TANDA, ponderous, Cuchbales. This is what the Caribbean countries call Esusu, CHAIR, Associate, Esusu.
How does Sou Sou MLM plan work?
A Sou Sou Plan is a modern MLM concept that catches more investor, its unique from its structure.It as four levels based structure peer to peer gifting plan fascinate the high traffic Multi level marketing industry now.It is introduced by US company.Sou Sou MLM plan is very similar to the 2*3 MLM Gift plan/Crowd funding plan.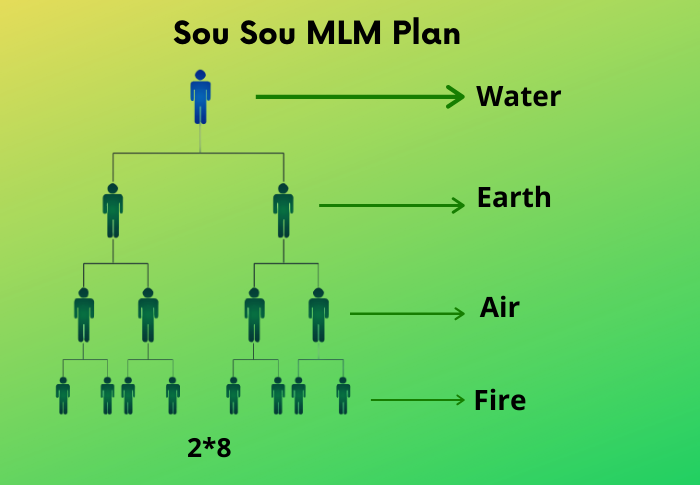 When the 2*3 positions of the level are filled, all 8 distributors at the bottom level or at the entry level of the tree must contribute a certain amount as a gift during the gift era. That is when the main sponsor completes the level and enters the top level of the board.
The key sponsor shall collect gifts from all 8 distributors and shall leave the level.The key sponsor will now enter from the entry level to the gift of other distributors that hit the top level. This rotation continues until all 15 distributors receive a gift from all other distributors of the Sou-Sou MLM programme.
How does Sou Sou Flower Plan work?
It is the same as the Sou Sou MLM Plan based on the Sou Sou flower model ,where the Sou-Sou MLM Plan is based.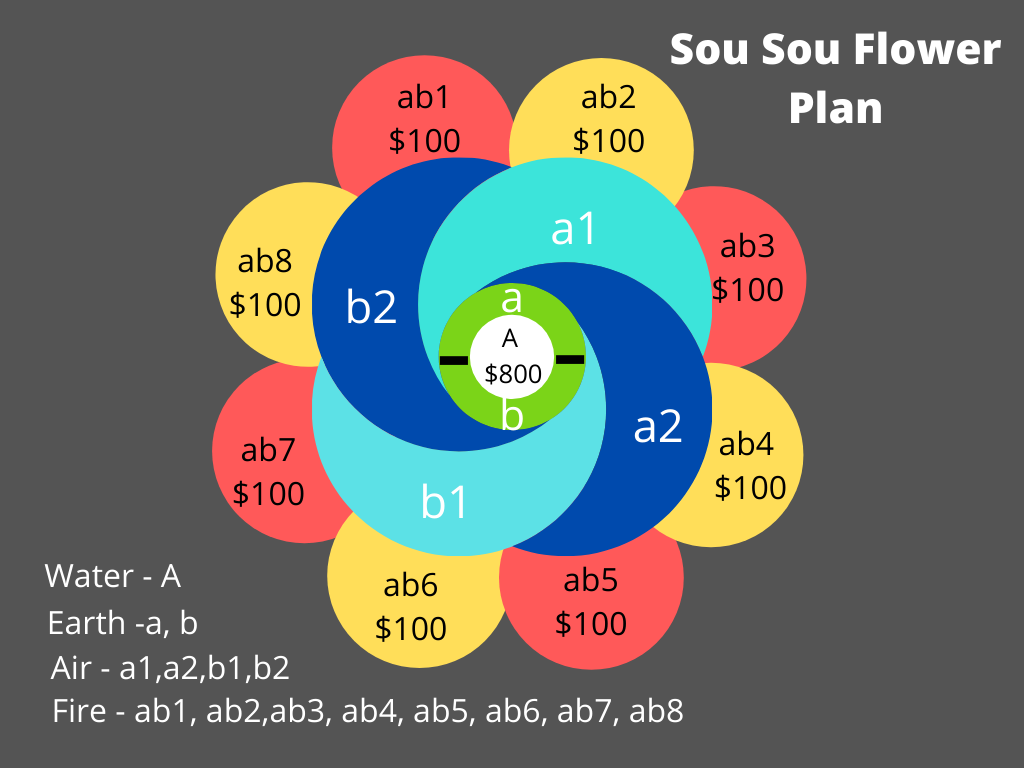 Looking over the Sou-Sou flower diagram as shown above, you can see that the Sou-Sou flower model consists of four levels or four elements known as fire, air, earth, water.
Fire level is the unit level containing 8 positions, air contains 4 positions, earth contains 2 positions, water is the final level containing just one position and the distributor receives a gift of MLM until it hits the final water position as mentioned above in the Sou-Sou MLM software.
Finally, with all the advanced and automated features of Global MLM software, it's time to combine your sou-sou plan with Global MLM software and transform it into an efficient Sou-Sou MLM software or Sou Sou flower software to yield high profitability.
This article is for informational purposes only. It should not be considered Financial or Legal Advice. Not all information will be accurate.
Consult a financial professional before making any major financial decisions