One of the most lucrative industries worldwide includes producing and supplying designer accessories, including jewelry. Whether rare-earth metals or illustrious forms of fine polish, several variants can cater to a broad audience. Not to mention, it's one of the few investment frontiers that's sure to grant returns on a long enough timeline.
There should be no surprise that the global jewelry industry is worth more than $260 billion today worldwide. Nevertheless, that also means that there are powerful corporations that make it a pain for fresh entrepreneurs to make their mark within a short period. That's why multi-level marketing jewelry companies have taken off lately.
Throughout this piece, you'll get to know why such enterprises are so famous. You'll also learn about the top 12 MLM jewelry companies on a case-by-case basis to understand the reasons for their success.
A Brief Summary of MLM Jewelry Companies
For the past few years, several supply chain obstructions have made it quite challenging to keep up with orders, especially international ones. It has also affected the jewelry industry, something less tolerable within such circles.
You see, an order for fabrics or toys can suffer from some delay, as the customers can be calm even after receiving it a few days from the specified date. Not so with jewelry, as each second they are within the supply line increases the chances of someone compromising their security.
Moreover, the clients often get more nervous with delays as the large sum of purchases can make the supplier seem dubious without prompt delivery. Even established companies have trouble keeping up.
Therefore, direct jewelry sale companies have come up as a reliable alternative. In an MLM model, it's convenient to break through local markets. Customers are more likely to trust a familiar face from their neighborhood instead of a voice behind a corporate logo. Since associates place the orders, they can provide a lean configuration for all orders without wasting space or storing excess jewelry.
Best MLM Direct Sales Jewelry Companies Worldwide
Now that you know how the direct selling model works for jewelry, let's take a look at the top-performing Multi level Marketing jewelry companies and what kind of model they use for their day-to-day operations.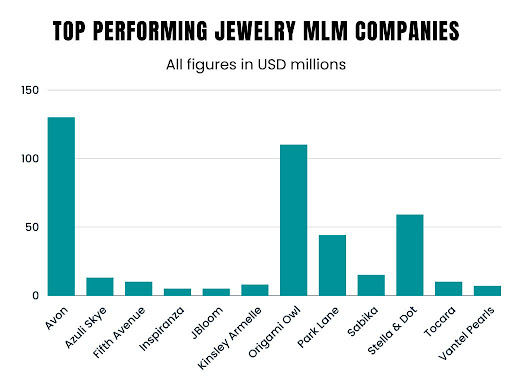 1. Avon ($130 million)
While Avon has a wide range of products that its representatives present to prospective customers, a portion also consists of jewelry and accessories. During the financial year 2021-22, Avon sold close to $130 million worth of products from that category.
Thanks to a close-knit direct supply line, they can afford to ship directly to their representatives for a fraction of the cost compared to conventional manufacturers. The lack of massive storefronts also means you can grant substantial bonuses to your ground-level employees. That makes joining Avon for your own jewelry selling from home dream very lucrative.
2. Azuli Skye ($13 million)
A relatively young company started by Deborah McNaughton, Azuli Skye is quite a prominent brand among young women both for quality accessories and business opportunities. You can earn up to 40% in commissions from sales, and the sign-up process is pretty straightforward.
Yet, Azuli Skye specializes in marketing. The company encourages sharing media while wearing its jewelry, increasing its audience size. Most of the marketing material is from fellow representatives instead of out-of-touch Instagram models who might need to learn what a 9-to-5 job is like.
3. Fifth Avenue Collections ($10 million)
If you've browsed the internet for budget jewelry pieces, you might have come across Fifth Avenue Collections. It's a company that focuses on providing desirable accessories for a fraction of what price other long-term brands quote.
It does this by cleverly using less expensive materials such as silver and copper instead of pure gold. The firm hires some of the best accessory designers to keep the products alluring. With lower costs, it's also able to hand out generous commissions to all affiliates, up to 50%, in the right conditions.
4. Inspiranza Designs ($5 million)
Initially just a small jewelry firm in Illinois, Inspiranza has quickly gained traction as a significant player across North America thanks to its development as an MLM. As an independent jewelry consultant for Inspiranza, you earn from sales and bring in influencers who can promote the brand further.
On its official store, Inspiranza Designs publishes the latest developments and introduces exclusive offers to clear older stock. That way, there are always fresh designs for high-end customers to choose from, which increases their bottom line.
5. JBloom Designs ($5 million)
JBloom (Just Bloom) Designs is another contender for the top MLM jewelry companies. The company has an entire catalog that it updates every few months. It introduces the best designs from its suppliers, most of which are part of package deals.
Those deals help both the regional representatives and the organization as a whole. JBloom stands out because higher discounts scale with the order amount. So, higher purchases mean better deals for the customers while also driving up commissions for the affiliates.
6. Kinsley Armelle ($8 million)
While most other direct jewelry sale companies focus on decreasing the costs of gold and platinum jewelry from their sources, Kinsley Armelle has a revolutionary approach. They offer accessories made from various materials, such as amethyst, quartz, and black obsidian.
Those materials often go hand-in-hand with therapeutic methods and help the mental health of various users. That, combined with seasonal offers and stock clearance sales, creates quite a large market for Kinsley Armelle to fulfill.
7. Origami Owl ($110 million)
.
In addition to cosmetics, Origami Owl also ships certain jewelry and accessories throughout the US, Canada, and Puerto Rico. Started as a pet project by Isabella Weems in 2010, the company quickly became a multi-million-dollar enterprise by adopting a direct sales approach.
Origami Owl focuses on bespoke products, such as jewelry with inscriptions and religious ornaments. The company can nail accurate designs relayed by the affiliates. That way, there is less wastage of precious metals, and you can ensure that the final product is manufactured to size.
8. Park Lane Jewelry ($44 million)
As a leading party plan jewelry home sale company, Park Lane was founded in 1950 by Arthur and Shirley Levin. The idea was that jewelry focused on women would be best marketed by women. Operating for over 70 years, the company has grown to incredible lengths, making the pages of lifestyle magazines and fashion bloggers from around the world.
Park Lane doesn't have crazy extensive collections. Instead, the company focuses on affiliating with influencers and other stores to feature its products. They also work with several music developers and movie production companies to increase their reach. For those looking to join the MLM, the company supplies the necessary material to host parties for a sales pitch.
9. Sabika Designs ($15 million)
Much like Fifth Avenue, Sabika focuses on exclusive seasonal collections instead of sticking with conventional products with a higher margin for profit. Their innovation has led the company on a clear path to success for the past 21 years.
For those looking to create their own jewelry home sale business, Sabika offers up to 30% to its agents for every successful conversion. Offering surprising discounts on numerous elegant products, it maintains a supply of desirable stock that can be challenging to find anywhere else.
10. Stella and Dot ($59 million)
Like Park Lane, Stella and Dot is a household name for coveted fine jewelry and fairly-priced accessories. It's been featured in several outlets, with the renowned designer Blythe Harris heading the design department.
As part of its affiliate network, Stella and Dot focuses on digital marketing and helping associates clear up their issues online. During the pandemic, the company provided the material required to market its products on social media successfully. As a result, it could avoid the downturn that most other corporations suffered during the same period.
11. Tocara ($10 million)
For most people, jewelry is about making a statement. That's where Tocara puts much of the effort. You can choose from various products from its official website, from rings and necklaces to watches and extenders. In addition, you can also commission your choice of jewelry from gold and silver alloys.
That experience is what draws quality clients to Tocara. They can even host home parties to build affiliate connections, creating a bespoke marketplace within their own homes without worrying about the finer aspects of running a business. And the company consistently receives positive reviews on most purchases, so the effort is well worth it.
12. Vantel Pearls ($7 million)
In terms of pearl jewelry, Vantel Pearls has established itself as a premium supplier over the past 30 years. Pearls are often hard to market as most of the sourcing involves intrusive fishing that eventually damages the sea life long-term. However, Vantel focuses on more sustainable methods.
All of the pearls are extracted from oysters that grow in dedicated freshwater farms. They even deliver the pearls enclosed within the oysters. The CEO got the idea from her trip to Hawaii. So, you can wear your jewelry knowing that you get the desired look without harming the environment.
Conclusion
And that concludes our list of the top 12 MLM jewelry companies that stood their ground in 2022. Did you find any that support your vision for a successful business, or do you want to create an MLM on your own? Be sure to connect with Global MLM for the best software solutions expressly customized to your needs.