The success of any multi-level marketing business relies heavily on its customers and distributors. As integrated MLM solutions empower associate distributors, direct-selling businesses are increasingly opting for them. One key feature that grabs attention in such MLM solutions is an MLM genealogy tree.
A direct selling business is more or less like a family where distributors introduce the products to their acquaintances and form a downline by associating them with the MLM. Genealogy tree in MLM typically illustrates the relationships between distributors within a network.
What is a genealogy tree in network marketing?
An MLM organization comprises numerous distributors and their recruited downlines; as more downlines are created, the marketing network expands. The hierarchy might be a little confusing at times; thus, keeping track becomes difficult. A genealogy tree in network marketing places all the organizational members in a family tree.
MLM genealogy tree consists of the following data of individual distributors or branches:
Their respective rank are based on compensation plan

Details of their sponsor

Total number of referral downlines
Also Read: MLM Accounting Software: Why Your MLM Company Needs One?
Top 10 Benefits of Genealogy Tree feature for your MLM business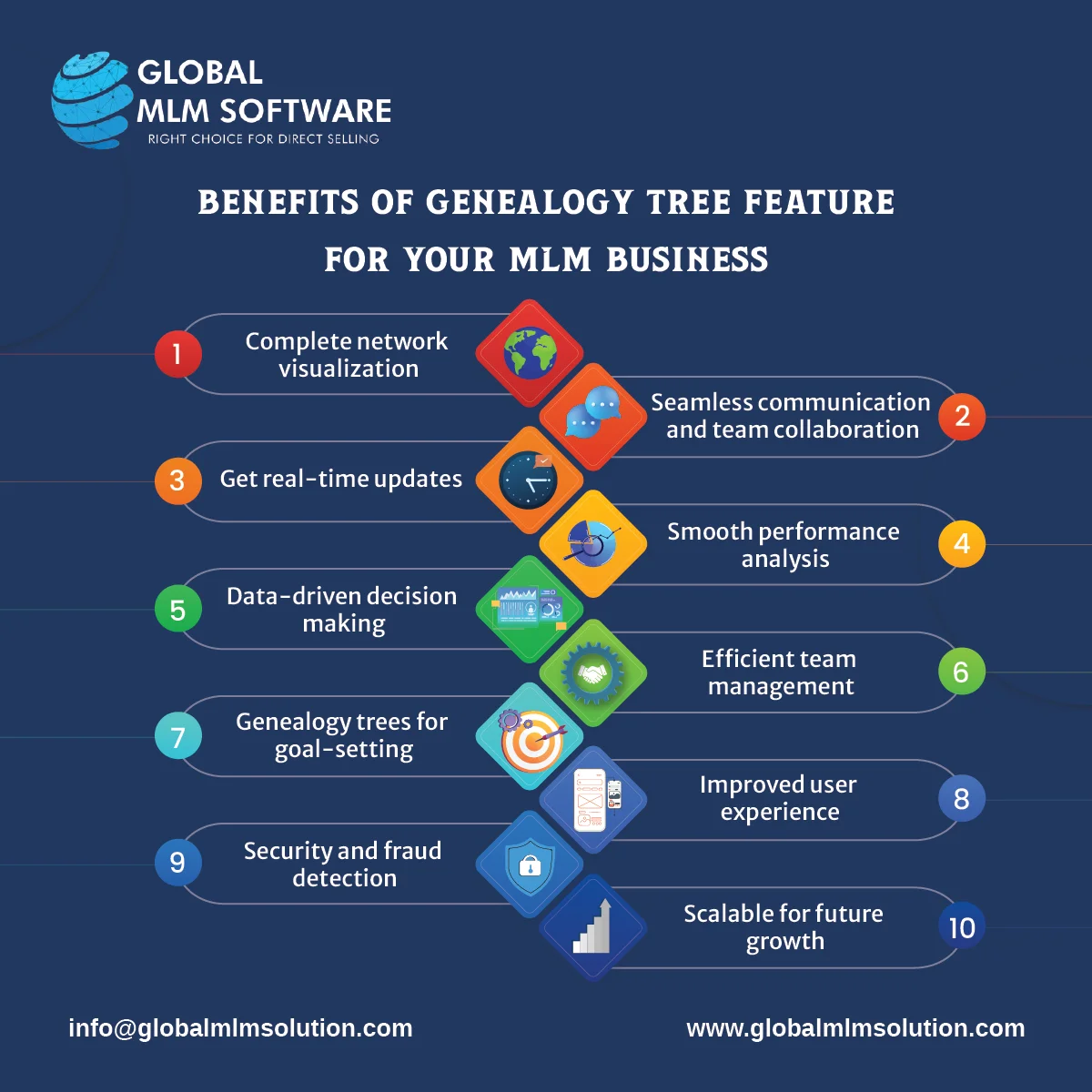 The benefits of the MLM genealogy tree are as follows:
1. Complete network visualization
A genealogy tree lays down complete MLM network information into visually appealing yet useful data.
Along with MLM genealogy leads, the complete internal structure of the company can be displayed in an easy-to-understand visual format.

Genealogy tree in MLM also offers the distributors insights into their own performance and conversion of their referral leads.
2. Seamless communication and team collaboration
The genealogy tree feature makes it easy to reach out to your fellow distributors and collaborate with your downline team.
Team genealogy is a great feature to keep a check on your downline progression with proper communication channels in place.

With such tree structure features in your MLM software solution, you can easily connect with downlines and uplines; better collaboration means better performance.
3. Get real-time updates
Distributor data is available and regularly updated on our MLM ancestry software, offering real-time updates.
Information regarding the new joiners with your referral or your downline's referrals is percolated in a single place and can be updated at regular intervals.

Moreover, such a feature also comprises important metrics like the portion of sales generated by yourself or one of your downlines.
4. Smooth performance analysis
Crucial data like the sales figures and the number of recruits can be easily found on a lineage tracker that can help in smooth performance analysis.
Analysis of performance metrics and member behavior can provide you with insights into successful and high-achieving patterns.

Based on their performance analysis, you can award better-performing individuals.
5. Data-driven decision making
Genealogy trees provide important data in a single place that can help you make informed decisions.
The MLM genealogy tree feature is great for helping you identify the areas where the structure needs improvement.

With important metrics related to the sales number of active and dormant distributors, you can easily make rational and data-backed decisions.
6. Efficient team management
The network marketing family tree arranges all your downlines in a hierarchical manner, thus helping you manage your team in an efficient manner.
This flow-chart-like digital representation helps to effortlessly recognize your team members and track their progress in terms of sales and recruitments they have made.

It also helps you do timely course corrections by providing lagging downlines with sufficient support and training.
7. Genealogy trees for goal-setting
The genealogy tree feature can help distributors set realistic goals for themselves and their teams.
As the tree diagram is open to all the distributors across the network, you can easily see how similar teams are performing at your specific level.

By using such examples of achievements as benchmarks, you can encourage your group to work towards a fairly tangible goal and move forward.
8. Improved user experience
In a genealogy tree, all the vital information can be neatly tucked in a single place in an accessible way; this helps improve the overall user experience.
MLM genealogy tree is basically a sort of mind map of organizational hierarchy that makes it easy for you to remember things.

Moreover, Global MLM solutions offer genealogy trees optimized for smartphones and tablets.
9. Security and fraud detection
The organizational hierarchy tree helps security and fraud detection in the structure.
With transparency as the biggest highlight of the MLM genealogy tree, it enables you to identify and weed out any anomaly.

Irregular recruitment patterns and suspicious sales volumes can easily be noted and inquired about.
10. Scalable for future growth
A genealogy tree feature can be expanded in line with future growth aspects of MLM.
Our genealogy tree feature for MLM can easily handle growth in your distributor network, the addition of more customers, or keeping a record of more complex metrics.

Global MLM Solutions' genealogy tree in MLM can easily handle such growth prospects.
Also Read: Network Marketing Successes: 10 Inspiring Stories To Fuel Your Ambition
Redefine seamless operations with MLM genealogy tree feature with a customized MLM solution.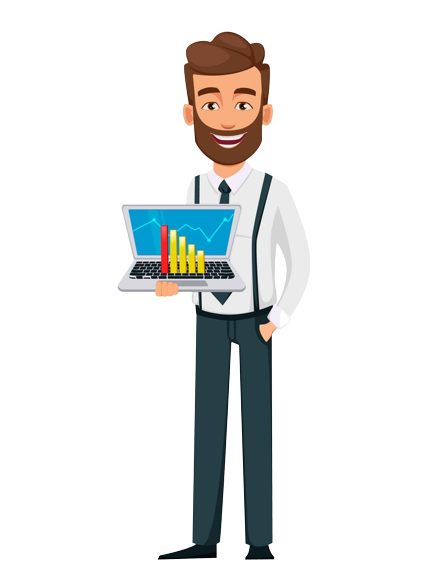 Conclusion
An MLM genealogy tree is surely a great way for digital visualization of your organizational lineage. Having such a digital tool integrated with your MLM software helps you stay more in control of your business. It is a smart decision to invest in an MLM solution that offers you features like tracking of direct selling lineage.
FAQs
1. How many types of genealogy trees are there in MLM?
In MLM software, the types of genealogy trees can include Generation, Matrix, Binary, Single leg, Broad, or Unilevel. However, you must remember that for each type of genealogy tree mentioned above, the structure varies.
2. What are the features of MLM Genealogy leads in network marketing?
MLM genealogy tree software includes the following features:
Customized tree structure based on an MLM's requirement.

Presence of more than one tree, i.e., one for referral and the other for team genealogy.

Comprehensive member data, such as their downline rank and sales volume.
3. In what ways can multi level marketing organizations benefit from using MLM genealogy software?
MLM businesses can essentially streamline their business operations by opting for software that is inclusive of an MLM genealogy tree . It makes it easier for you to generate actionable reports based on the real-time data on various members.