There are several fields where MLM companies are prevalent, but none can surpass the makeup industry. Recent statistics show that the graph will only increase, with its CAGR almost doubling within the last five years. That makes it quite lucrative to participate.
Yet, that can prove challenging with names like Maybelline and L'Oreal Paris in business. That's why it becomes necessary to pay more attention to how you approach your prospective buyers. It's why makeup MLM companies have risen in the public eye. In this guide, we'll look at the top 10 MLM makeup companies from around the world and why they're so successful.
What Is an MLM Makeup Company?
As the name suggests, such companies sell makeup and cosmetic products through a multi-level marketing design. That means appointing associates directly connecting to prospective buyers within their communities and placing orders on their behalf.
That saves plenty of resources in setting up container-level supply chains, and showrooms span a city block. Therefore, the profit margin is pretty high.
Top 10 Best MLM Makeup Companies by Revenue.
Now that you know how makeup MLM companies work, here are the top 10 most influential ones by revenue.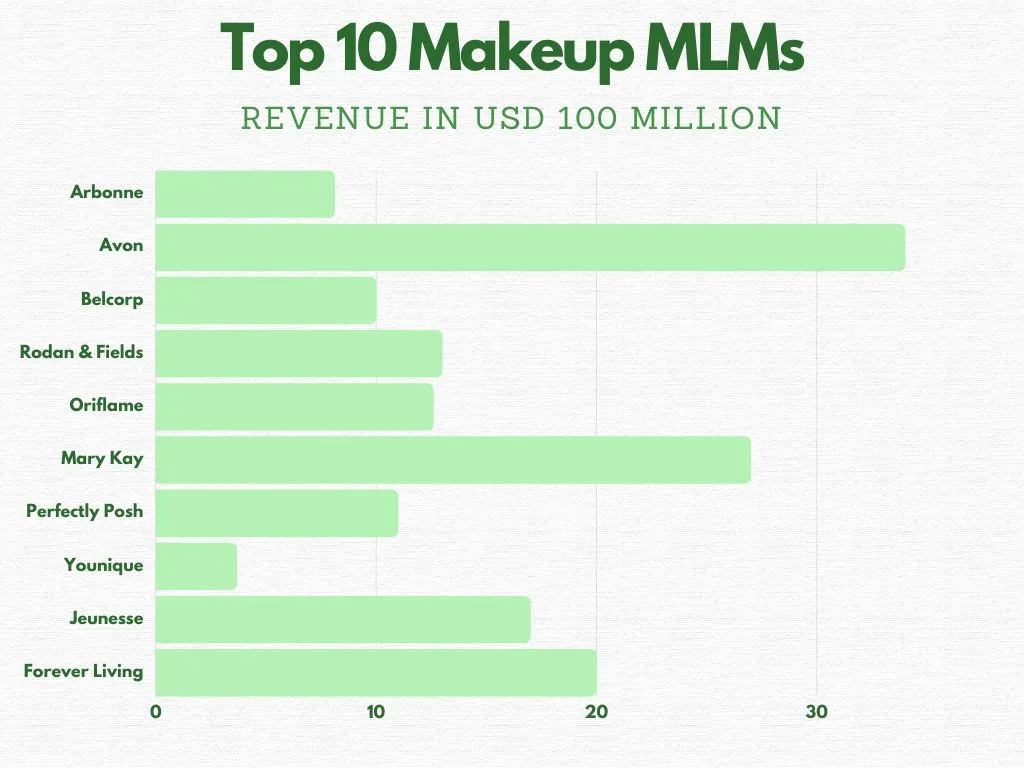 Arbonne ($812 million)
Unlike conventional suppliers with a catalog too extensive to grasp, Arbonne focuses on quality rather than quantity. Even though they have only 19 products, the organization has maintained an annual revenue of over $500 million for several years. That's quite impressive for an MLM cosmetics company that has existed for more than 40 years.
Avon ($3.4 billion)
If you're wondering who started the trend for MLM beauty companies, look no further than Avon. In a highly conservative world, Avon set out to switch traditional gender roles by empowering women with an income option they could rely on. A company that grew to new heights in the post-World War era, its annual revenue scales to billions, thanks to effective marketing and excellent products. The company also sponsors several charities that work for feminine equality.
Belcorp ($1 billion)
L'Bel, Esika, and Cyzone all together constitute the beauty MLM companies of Belcorp. It utilizes the expertise of cosmetic marketing through mass media, reaching out to customers who can place orders in over 40 countries.
The promise of a healthy environment as a sales representative is also a plus factor for Belcorp's profits. They build themselves around empowering women by offering them a comfortable yet rewarding business opportunity. So far, Belcorp has over 800,000 active representatives that market to a wide demographic.
Rodan & Fields ($1.3 billion)
When Dr. Katie Rodan and Dr. Kathy Fields met at Stanford in the 1980s, they didn't know they would take the helm of one of the most successful MLM makeup companies. While first limited to only sun protection and antiseptics, the company quickly broke new ground with advanced anti-aging creams and face serums.
All products are thoroughly tested for effectiveness with different skin types. Rodan & Fields also ensures that they utilize minimal allergic and caustic compounds across the entire range. Additionally, it offers pretty attractive discounts and commissions to all associates. You can avail of a business kit for less than $50, with digital marketing assistance for just $25 per month.
Jeunesse ($1.7 billion)
Although the company started in Florida in 2009 as a supplement supplier, Jeunesse quickly realized the profits that lay with MLM beauty companies. Today, the organization offers moisturizers, cleaners, masques, and serums as part of the main catalog. You can also subscribe to their YES (Youth Enhancement System) program for a comprehensive approach to cosmetics and edibles. It ensures that you retain a youthful look for as long as possible.
Oriflame ($1.26 billion)
Discounts and gift cards always appeal to people who regularly use specialized cosmetics. Oriflame takes that up a notch by integrating the system within an MLM structure. In addition to the representatives, Oriflame offers every customer the chance to save on each purchase.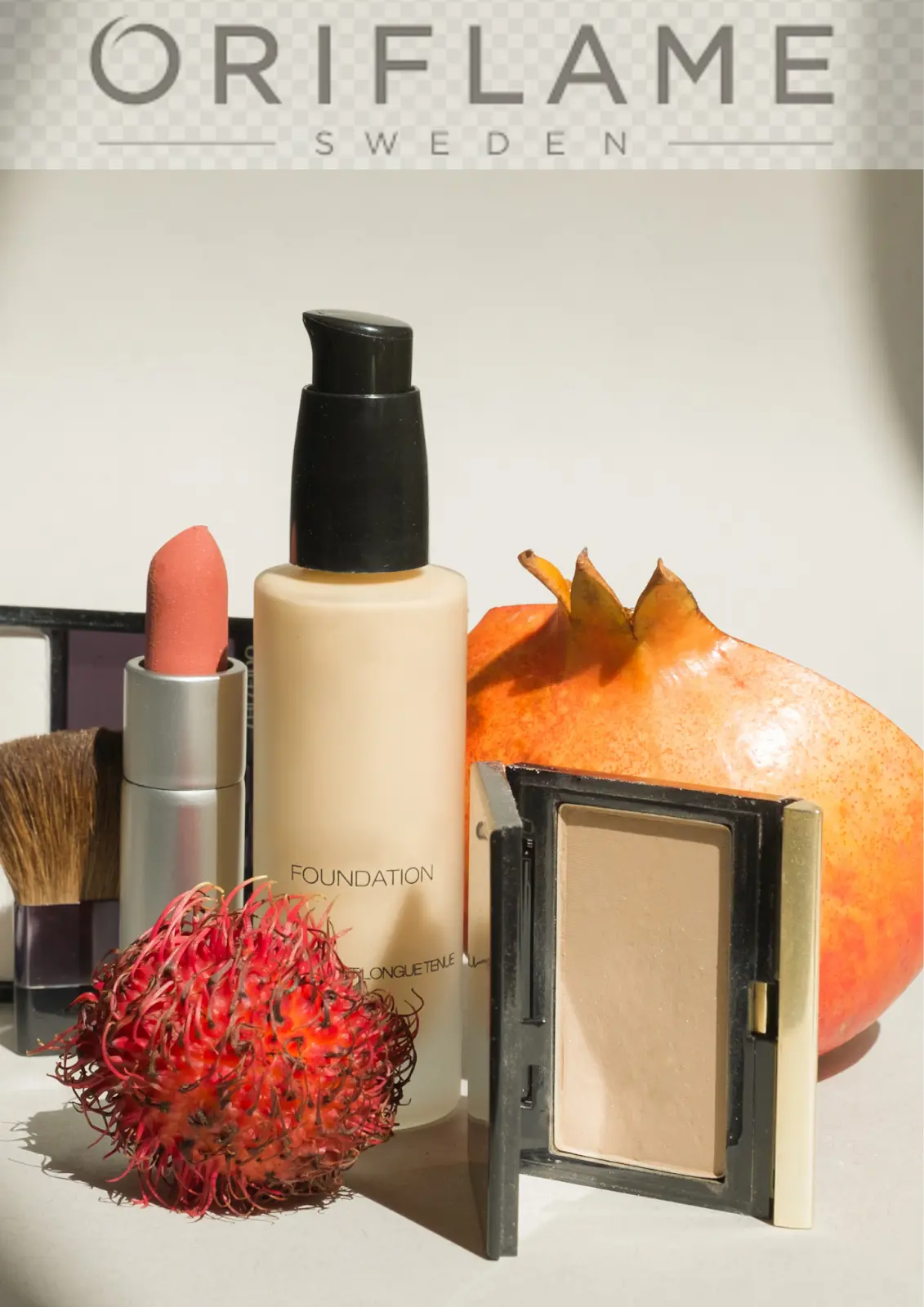 Oriflame offers a discount card and a loyalty program for repeat customers. If you wish to gift any of the cosmetics to a loved one, you can do it through a gift card from the official website. Such methods often result in significant customer retention.
Mary Kay ($2.7 billion)
While other MLM beauty product companies involve a system directly interacting with customers, Mary Kay representatives try to appeal to outlets and established franchises. That way, the company can access a broader audience through less effort and obtain precise reports about which products are reaching the sales targets.
The lack of their own stores saves Mary Kay billions, even though you can find their products in more than 40 countries. Instead, the company's consultants arrange for party meetings if the representatives request to reach out to specific communities.
Forever Living ($2 billion)
Founded in the arid Scottsdale, Arizona, Forever Living focuses on reaching customers far and wide. Initiated in 1978, the company today has associates in more than 20 countries. It offers several makeup products in tandem with diet-based drinks, essential oils, and weight management supplements.
Perfectly Posh ($1.1 billion)
A company that values its customers as much as its influencers, Perfectly Posh is slowly transforming the association that people place with MLMs and pyramid schemes. The company has a concentric structure with a commission plan that disperses the final-chain commissions first. Their upper leaders (affectionately referred to as PoshBosses) get a monthly payment.
Thanks to an MLM structure, the company can afford to sell its products at lower costs than its mainstream competitors. You can avail of a vegan skin cream made from milk, honey, and beeswax for less than $30.
Younique ($368 million)
True to its namesake, Younique was founded by Derek Maxfield and Melanie Huscroft in 2012. They were Utah residents looking to empower women in their area. In doing so, they created an MLM cosmetics company valued at billions of dollars today.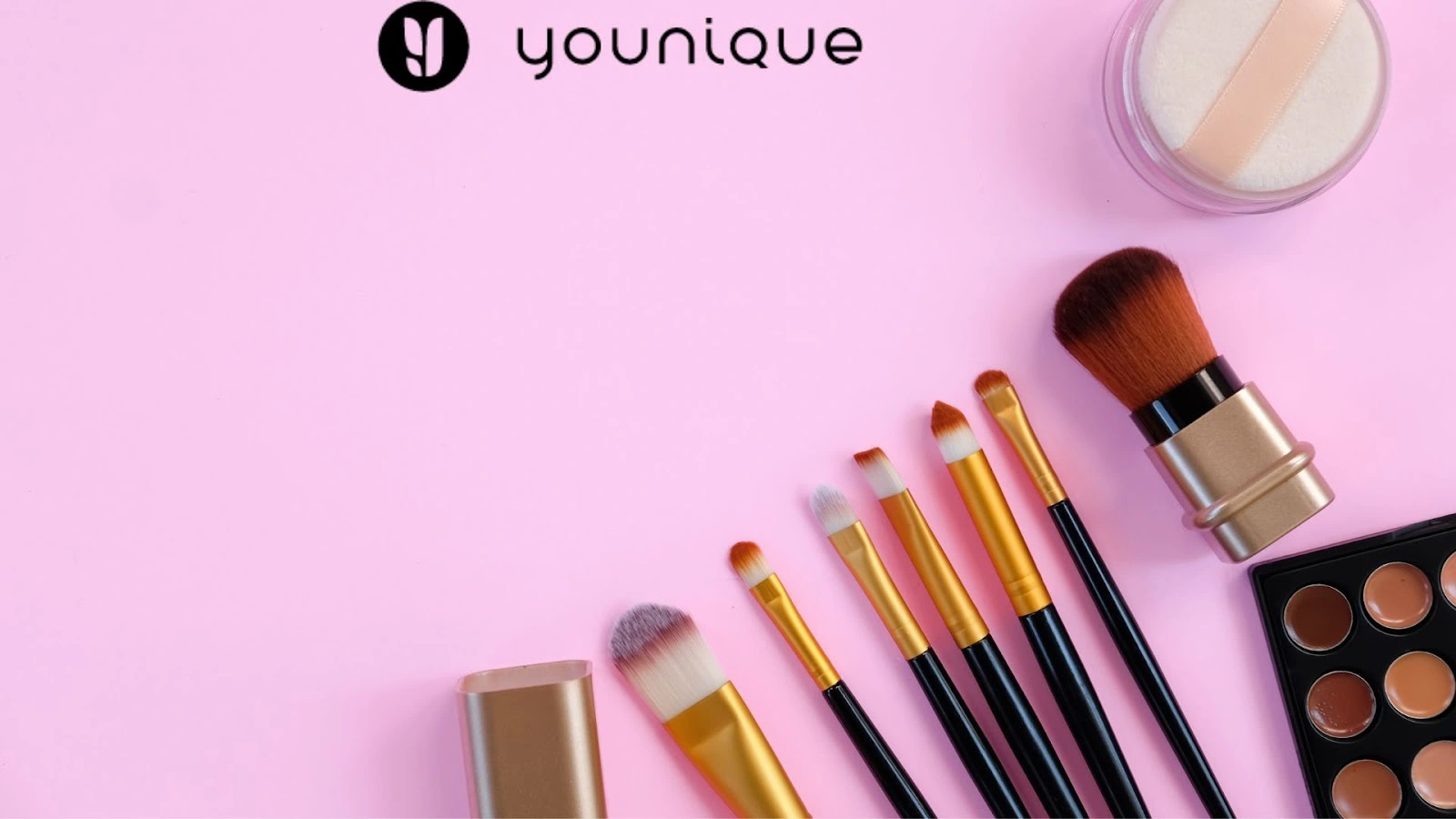 Younique has a similar approach to makeup kits to Avon. The only difference is that it makes the associates fully capable of choosing specific products instead of carrying the entire catalog around town. The company also funds several charities that deal with women's mental health, domestic violence, and child abuse.
Final Word
Regardless of which company you choose, there is no initiative better than what you create yourself. However, you may need substantial resources to stay updated in a digital world. And Global MLM can provide those for you within a decent budget. Whether you desire single-line MLM makeup companies or want to create something around cryptocurrency, Global MLM can lend you the necessary tools.
Frequently Asked Questions
1. Is Mary Kay cosmetics an MLM?
Yes. Mary Kay is one of the most successful cosmetics MLM companies, recording an annual revenue of USD 2.7 billion in 2022.
2. What is the most profitable makeup company?
Avon is still the most profitable MLM makeup company in the world, raking in a profit of more than $3 billion just last year.
3. What beauty products are most in demand?
A few of the most in-demand beauty products include under-eye creams, moisturizers, anti-aging creams, and face washes.
4. How much commission do Mary Kay consultants make?
Mary Kay offers a base commission payment of 50% to all its associates. Those that go up the line make anywhere around 4% to 23% based on the total sales underneath them.