Genealogy tree
It is basically a feature that allows the whole system to be available in the tree-like structure with most of the information included.
Basically, a genealogy tree is something that keeps rolling the whole business structured under various branches through member information.
You all might be familiar with the family tree and it does have all the family member line-up aligned in the order of the head of the group. their siblings, granddaughter etc.Similar stuff is maintained here in genealogy also with little modification and detailed data availability.
It won't be easy to binge-watch the complete series of engaging business moments and you certainly need network marketing software with genealogy tree features and it's network structure lets the business conlang — the untold language into the one which speaks.
These details pop up on the screen with just a cursor movement and with just a minute expansion the whole member line-up will be displayed.
The details let the members to understand the working profile of the members and thereby accelerate the working efforts.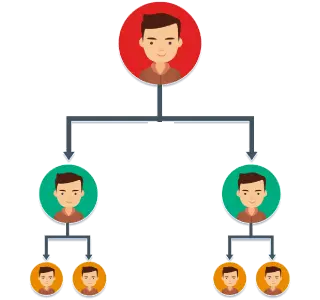 Global MLM Software
Global MLM Software can generate hundreds of reports on fly using our inbuilt tools.With 200+ features, Global MLM is packed with amazing traits to take your business to next level.
Genealogy tree is one of the feature in Global MLM Software.Genealogy Tree is a approach to representing the down-line members under you. It describes of team structure in the form of a tree. Visual genealogy for the member and admin helps to identify the network growth and helps to plan succession.