The cosmetics business is one of the most lucrative and competitive fields of business. According to Grand View Research reports, it is valued at more than USD 130 billion worldwide. In the US alone, experts project the market to grow past USD 30 billion by 2030.
Therefore, any business trying to make its mark in the industry faces incredible odds. One proven method that can assist them is to reach the audience individually. Of course, that can be a monumental task for any organization with a limited staff to support its cause. But there is one way to increase efficiency with the produced stock while increasing awareness for the brand: multi-level marketing (MLM).
What You Should Know Before Joining a Skin Care Network Marketing Company
Before joining a cosmetics MLM company, it helps to ensure that the organization is not running a pyramid scheme. An excellent method to spot it is that the joining fee should be low and the corporation should focus on products instead of recruiting members.
If the company has a genuinely excellent product, then being part of the best makeup MLM ensures that you reach your customers to establish a long-standing line of assets. With the right system, you can grow your own business by incentivizing sales and recruiting members within tightly-knit communities who can trust you in the long term.
Additionally, it rids you of any supply chain issues that often plague mainstream manufacturers while reporting precise numbers to plan your progress.
Top 12 Skin Care MLM Companies By Revenue in 2023
Several enterprises have successfully experimented with the formula and achieved pretty great revenue numbers in the past year. Here's a list of the top 12 skin care MLM companies you need to know for their scale and strategy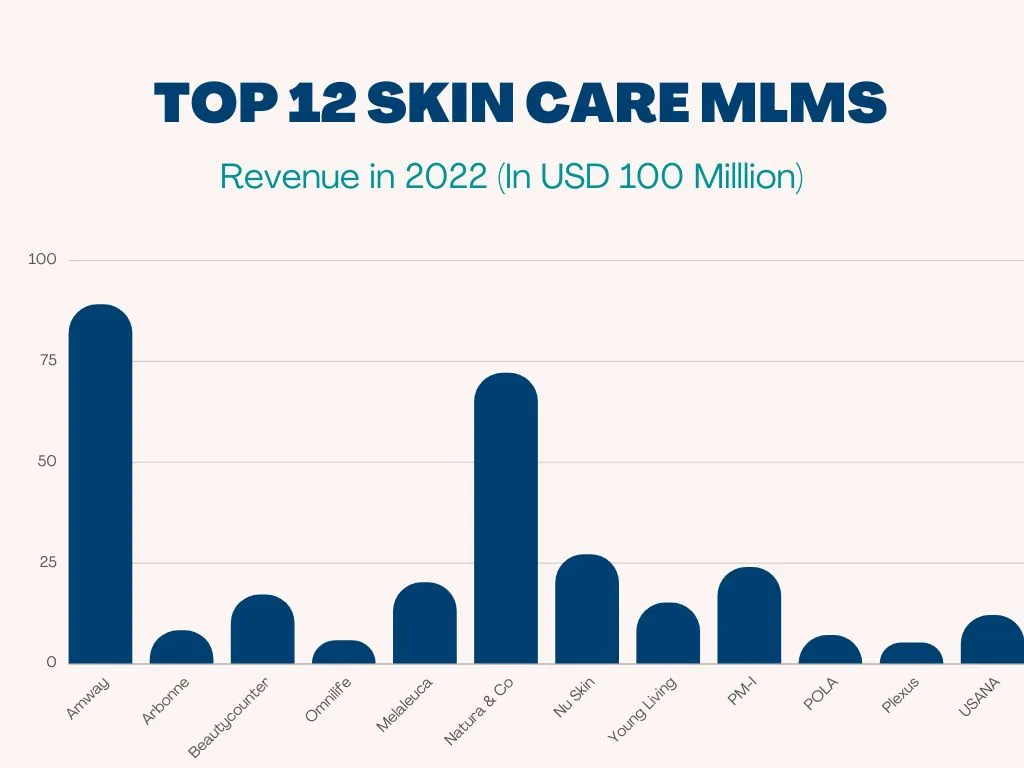 1. Amway ($8.9 billion)
As the leading cosmetics MLM company, Amway has a strong foothold in several countries where it offers effective products at a far lower price tag than conventional suppliers such as Lakme and Maybelline. Their secret lies in introducing products from several categories, from body lotions to health supplements, and choosing the most likely to succeed in the market.
With a direct-selling structure, the company saves plenty on marketing and advertisements, with its highly trained representatives doing the heavy lifting. As a result, it has grown to cater to a broad customer base that believes in its quality and timely supplies.
2. Natura & Co. ($7.2 billion)
A company that believes in sustainable development and preserving our planet, Natura & Co. is a conglomerate of four interdependent corporations. Each caters to a specific field, with Natura exercising strict control over its environmental impact.
Unlike other skin care MLM companies that want to downplay their pollution numbers, Natura publishes a comprehensive annual study that details their waste production and management, both from the manufacturing units and the supply chain. That is one effective way to attract eco-conscious customers keen to reduce their carbon footprint from the usage of cosmetics.
3. Beautycounter ($1.7 billion)
First founded in 2011, Beautycounter was Gregg Renfrew's initiative for an MLM beauty product company. She discovered that there were only 30 ingredients that the US government bans from skincare products. She sought out innovative new ways to make the system more effective.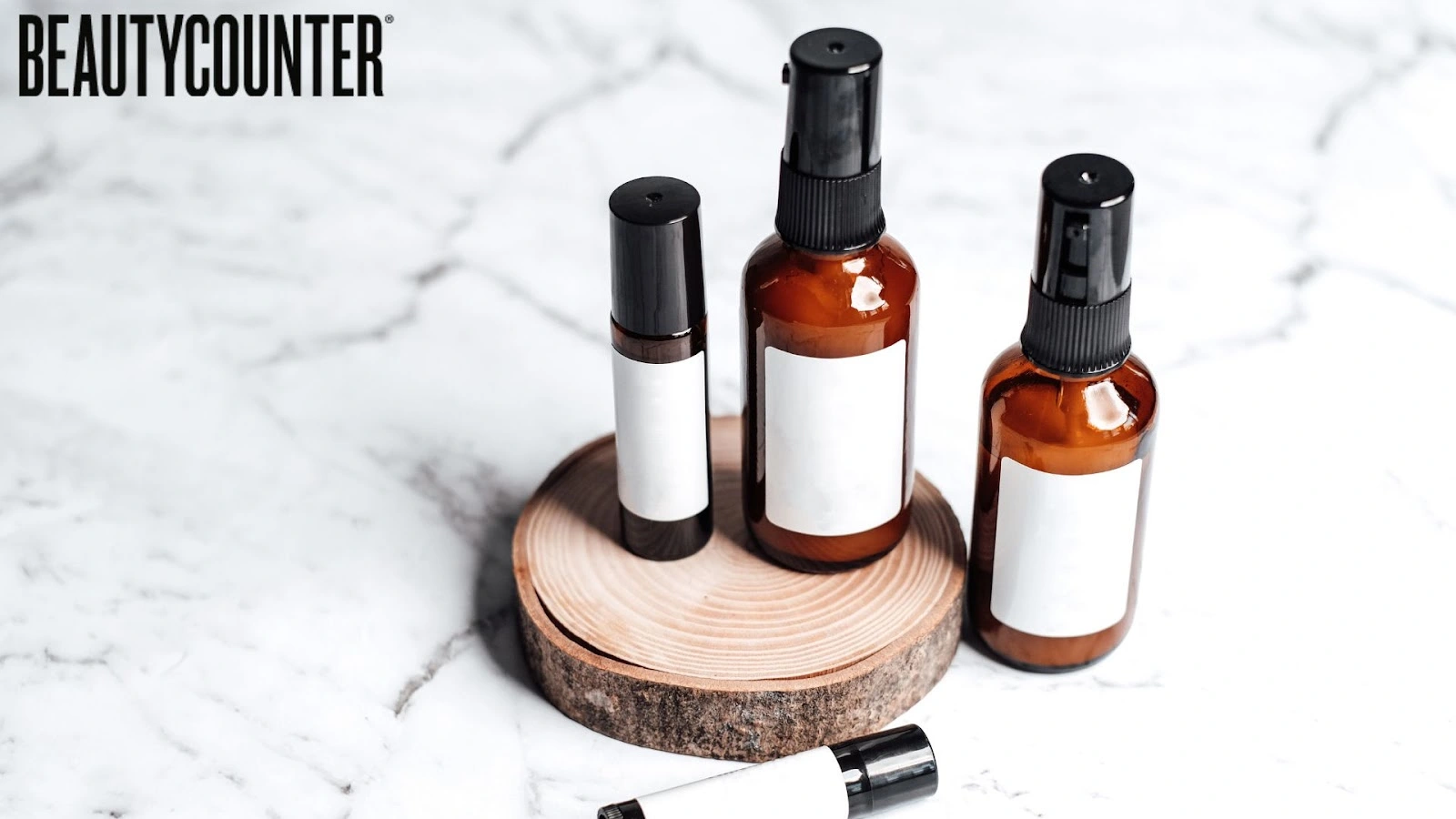 In the spirit of their founder, the company lists 1800 harmful ingredients on their websites that they refuse to use in their product range. They only source their ingredients from responsible suppliers and ensure that they're not damaging the environment. Most of their products concern rejuvenating the skin through biotic means.
4. Melaleuca ($2 billion)
If you believe that eco-friendly skin care products aren't a good investment, then Melaleuca is set to prove you wrong. First started in 1985, when the ecological concerns within the US were picking up, Frank Vandersloot wanted to bring that revolution to the cosmetic industry.
Doing that, he created an enterprise that now spans 19 countries. Melaleuca prides itself for living up to its original promise while alleviating the issues of conventional supply chains. In addition to cosmetics, it also offers non-caustic, eco-friendly solutions for cleaning, laundry, pet products, and nutrition.
5. Nu Skin ($2.7 billion)
Although the sales could have been better for the last quarter of 2022, Nu Skin reported overall solid profits. Thanks to their robust supply chain solutions and effective stock management through their sales associates, they were able to stave off the worst of the crisis.
That's somewhat of a lesson in skin care network marketing. If you let your representatives stock up without recording sales, you will likely run out of more lucrative prospects that will appear soon. Thus, it's best to set a threshold that prevents hoarding of products and encourages sharing should one leg of the MLM run critically low.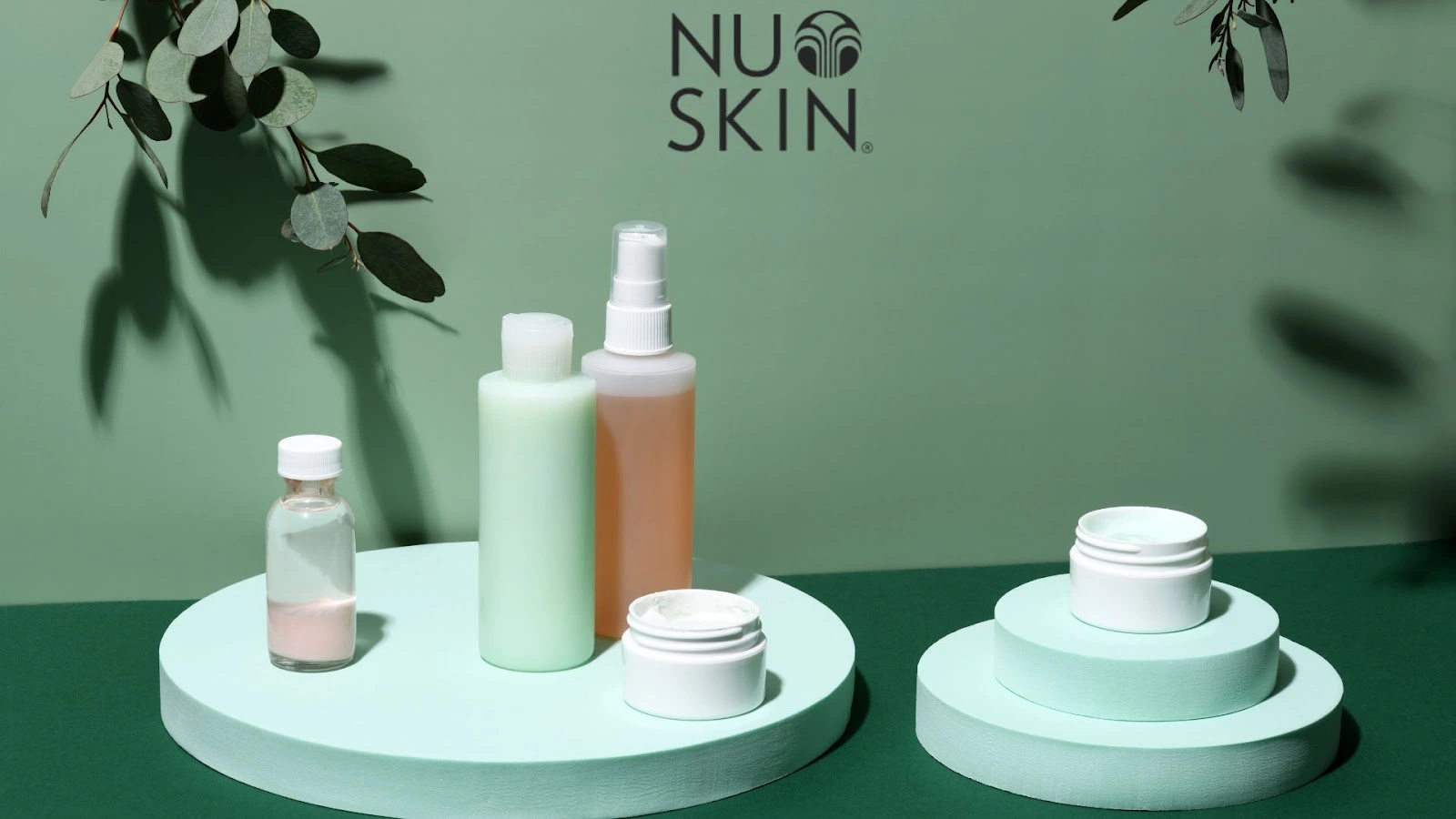 6. PM-International ($2.38 billion)
For most skin care MLM companies, convincing a customer of their product's effectiveness is crucial for conversions. That's where PM-International puts its primary focus. The organization focuses on innovation, filing more than 70 patents for its various cosmetics in less than 30 years.
The initial effort pays off within a short period. With studies that praise your product range on an objective level, your representatives can reach their direct sales targets quickly. Furthermore, the company is keen on robust MLM management software that acquires precise reports from all divisions.
7. Omnilife ($563 million)
One of the best makeup MLM companies in existence, Omnilife was first started in 1991. Over time, it established itself as a significant supplier for health supplements, insurance, and financial services.
The founder, Jorge Vergara, changed the company's name from Omnilife and focused on expanding the cosmetic product range. In 2020, when most of the industry was trying to assess the damage of supply chain delays, it made over $800 million in revenue. While the rush has cooled down in a couple of years, it still has a substantial spreadsheet to boast.
8. USANA ($1.19 billion)
For most people, their daily routine doesn't provide enough time to apply enough cosmetics for the ideal appearance. That's why USANA is different in its cosmetic products. Most involve creating a healthy and sustainable lifestyle through edibles and food supplements.
Experts often recommend the approach, as the skin-level augments can be wiped or washed off. USANA has received positive reviews from various trusted agencies that certify the products as safe to use.
9. Arbonne ($812 million)
Similar to Natura & Co, Arbonne markets to customers who care about the environment. The company ships all products in disposable and recyclable material. Moreover, the manufacturing involves only organic products that are responsibly sourced with minimal habitat destruction.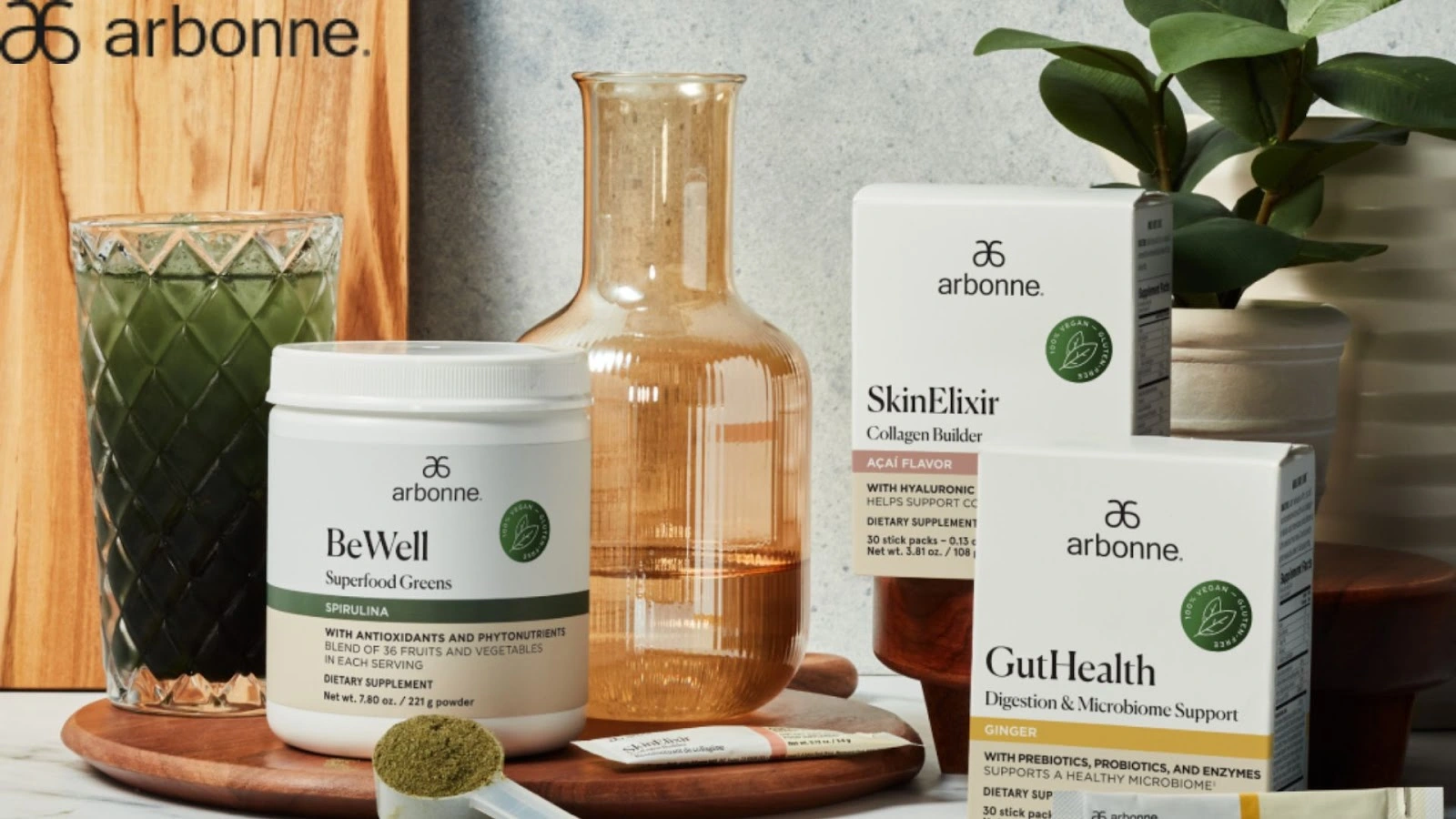 The pressure on more eco-friendly supply chains creates a tension that skin care direct sales companies can break up. Since the associates only order the stock the customers need, limited resources are required to ship those products. That reduces the pollution and wastage that often takes place with more conventional methods.
10. Young Living ($1.5 billion)
A company that primarily deals in essential oils, Youth Living currently operates in more than 30 countries. Gary Young founded the firm in 1993 to set the stage for a brand that cares for its supply chain and the environment just as much as the customers. Today, it provides responsibly-sourced for manufacturers and consumers with a profit margin never heard before for a similar firm.
An obstacle that several eco-friendly companies encounter is cost. You can't pay the fair share to ground-level workers who pick the plants without paying your due diligence and assigning specific areas for cultivation. Young Living diverts that cost by minimizing on advertisements, utilizing the associates to market the products within their communities.
11. POLA ($691 million)
In the age of the internet, your online identity should back up what your representatives tell your customers. That's where POLA shines brighter than other cosmetics businesses. The company invests plenty in a digital marketing strategy that reaches far beyond where its associates can.
In addition, POLA knows that relying on other skin care MLM companies for a bespoke cosmetic treatment is a recipe for disaster. That's why they invested heavily in opening stores in areas that reach record profits. There are more than 32,000 POLA centers in Japan alone. It may hurt their bottom line now, but they'll more than make up for it in the coming years.
12. Plexus Worldwide ($505 million)
While more products increase your prospective customer base, specializing in a few has its own benefits. You can quickly filter out any uninterested leads who might otherwise waste your time, and you gain a firmer foothold that you can sustain for a more extended period with enough studies and modifications.
That's the approach of Plexus Worldwide. It has a smaller shop than what you would otherwise find in other cosmetics stores, but customers are guaranteed excellent quality for whatever product they do choose. For a relatively young company, Plexus is doing well in terms of revenue.
Key Takeaways
When it comes to breaking into the skin care industry, it helps to stand out from the crowd. That requires studying the market thoroughly and creating a digital footprint that your target audience can relate to. You can get in touch with Global MLM through the official website for the best customizable solutions for your MLM software.